Viking Canvas Print Odin The Supreme God of the Ancient Scandinavians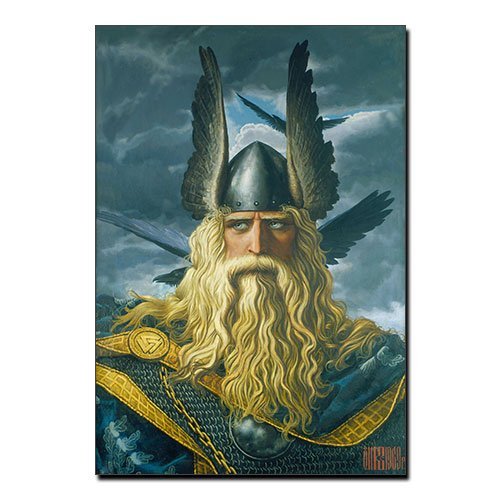 Free Shipping;
High quality canvas print;
Stretched on internal genuine wooden frame;
Sizes: 
S: 40 x 28cm;
M: 60 x 41cm;
L: 80 x 55cm;
XL: 100 x 69cm;
Can be ordered without a frame;
The Viking canvas print is made by European standards of quality. It is stretched over an inner frame made of genuine wood - just like the real oil painting. The high quality canvas is offered in different sizes.
Odin
Odin is the chief Germanic deity. He is the first of Aesir, the ruler of Valhalla. He has many names: Allfather of men, Balder's Father, Lord of the Aesir, the One who is many and so on.
Print Information
Dimension options
S: 40 x 28cm; M: 60 x 41cm; L: 80 x 55cm; XL: 100 x 69cm.
Framing
Stretched Canvas on an internal wooden frame; Also available wrapped (about 50% cheaper) - write to us about it.
External Frame
External Frame cost extra pay - write to us about it.
Shipping & Handling Time
Crafting time
~ 10 business days
Standard shipping
3-6 weeks (depends on destination and other factors that not depends on us). Placed between soft panels for maximum security.
Express shipping
Write a message to us. Usually, we use DHL (1-4 business days, depends on destination).
Other
Customization
Write a message about custom dimensions.